Norway's good starting point as an industrial and shipping nation is one of the factors that explain why Norway has managed to develop a world-leading, technologically advanced supply industry. Others include the need to manage severe weather conditions in the North Sea, strict national legislation and the high standards required by the operators. In many ways, the Norwegian shelf has functioned like a laboratory where companies have had to find solutions to technological problems in order to produce the oil and gas.
Efficient utilisation of the resource potential on the continental shelf is an important basis for the competitiveness of the Norwegian supply industry. The Norwegian shelf has become one of the world's largest offshore markets, providing a large domestic market for Norwegian suppliers and a source for employment in all the country's 19 counties.
A study carried out by the Centre for Applied Research at the Norwegian School of Economics showed that in 2015, about 117 000 people in Norway were directly employed  in petroleum related service and supply industry. 26 000 of these worked offshore. See article on employment for more information.
Reduced activity, both on the Norwegian shelf and globally, has been challenging for the service and supply industry. As a result, considerable downsizing has been necessary in recent years. However, the industry has shown their adaptability by reducing the cost level and increasing their productivity, thus increasing their competitiveness. The Norwegian-based industry has therefore been awarded several contracts on the Norwegian shelf in 2016.
With a turnover of NOK 378 billion in 2016, the service and supply industry is Norway's second-largest industry, after sales of oil and gas
What is the service and supply industry?
As used here, the service and supply industry means companies based in Norway that supply oil- and gas-related products and services to the upstream oil and gas industry. It does not include general deliveries to the petroleum industry (for example hotel, office, property and telecommunications services). Figures for international turnover in the Norwegian service and supply industry includes sales through subsidiaries abroad.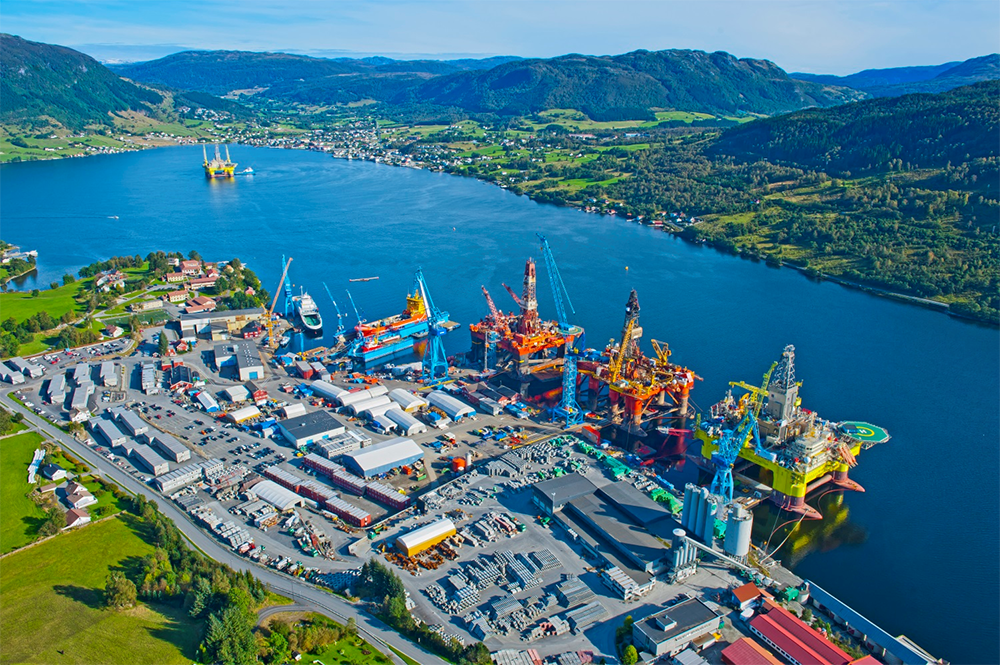 The Norwegian service and supply industry includes more than 1 100 companies supplying goods and services in all stages of the value chain, including seismic and engineering services and drilling rig equipment; valves, nuts and hoses for the shipyard industry; advanced offshore supply and service vessels and subsea technology.
The service and supply industry is located throughout Norway. It employs a large share of people in the Stavanger region, where there are companies offering a wide range of goods and services. In other parts of the country, companies in the same segment are clustered within limited geographic areas.
In and around Oslo, there is well-established engineering expertise and a cluster of seismic companies. Trondheim has a strong position in research and education, while the Bergen region has become a centre for platform maintenance and subsea equipment. In Buskerud, especially in Kongsberg, a strong cluster has been developed related to subsea technology, automation and dynamic positioning equipment. In Southern Norway, there are world-leading companies in drilling technology, and the Ålesund region has maritime companies that provide a complete shipbuilding and outfitting cluster, for example for advanced offshore vessels.
The specialised, technologically advanced supply industry has developed a knowledge base that is also useful for other sectors. There are many examples of technologies originally developed for the petroleum industry now being applied in a range of other fields.
The Norwegian supply industry is world-leading in subsea technology
Rapid developments in subsea technology are making it possible to extract oil and gas at increasing depths and distances from land. Subsea solutions will play a vital role in the development of new discoveries in the Barents Sea.
Exciting new developments include a breakthrough in subsea compression technology in Norway. Statoil has two seabed compression projects on the Åsgard and Gullfaks fields on the Norwegian shelf. The aim is to maintain the level of production as the pressure in the reservoirs drops. Statoil envisages the installation of this type of technology on more fields as a cost-effective way of increasing the recovery rate and prolonging field lifetime.
The Åsgard subsea compressor, delivered by Aker Solutions, is the first subsea compression system in the world. It will boost recovery from the Mikkel and Midgard reservoirs by 306 million barrels of oil equivalents. In developing the system, Aker Solutions drew on experience it gained during a pilot project on subsea compression on Ormen Lange.
The subsea wet gas compressor for Gullfaks is another example of cutting-edge technology, and was developed by OneSubsea in cooperation with Statoil. This is the first system of its kind in the world, and is expected to increase the recovery rate for Gullfaks Sør from 62 % to 74 %. This means that production will rise by 22 million barrels of oil equivalents. The compressor station was built and tested entirely by suppliers and subcontractors in Western Norway.
In 2016, 35 % of the total turnover of NOK 378 billion in the Norwegian-based supply industry, or about NOK 132 billion, came from international markets (report). Turnover in 2016 was lower than the two previous years, even though the service and supply industry was affected by the oil companies' cost-cutting measures. The industry managed to maintain a high level of international turnover through 2015, in part due to solid order backlogs entering that year, and a depreciation of the Norwegian currency (NOK) compared to USD amongst other currencies. However, most companies experienced a substantial decline in new orders, along with lower day rates for service vessels during 2015, causing revenues to fall in 2016.
Subsea equipment and installation constitute the largest product segment in terms of revenue in international markets for Norwegian suppliers. Topside and processing equipment rank second, followed by operational and professional services.
35 % - or NOK 132 bn - of total turnover in the Norwegian-based supply industry came from international markets
In 2016, the five most important markets for the Norwegian service and supply industry were Great Britain, Brazil, the United States, Angola, and South Korea. As in previous years, UK sales spanned most product segments. Brazil is a market of growing importance to all segments, particularly subsea equipment and services, but also operational services and logistics (primarily vessel hire). Subsea equipment and services also constitute the largest share of sales in the US market, followed by rig and drilling services.
Norwegian Energy Partners (Norwep) provides support to the whole energy industry in Norway, after merging INTSOK and INTPOW in 2017. The organization aims to strengthen the long-term basis for value creation and employment in the energy industry, and is the government's most important tool for promoting the Norwegian energy industry in international markets.
For a long time, the industry has been and will continue to be a cornerstone in the Norwegian economy. Long-term efforts to develop a strong Norwegian based service and supply industry has been successful. It employs a vast number of people all over the country, operates at the edge of the technology frontier across multiple segments, and has a demonstrated ability to maintain competitiveness. This also means that the overarching principles of Norwegian petroleum legislation are being followed. That is, resources on the continental shelf shall be managed in a long-term perspective so that value creation benefits society as a whole, among other things by providing employment and strengthening Norwegian businesses.