The total area of sea under Norwegian jurisdiction is 2 039 951 km², which is almost 6.5 times the size of mainland Norway, Svalbard and Jan Mayen. About half the area of seabed consists of sedimentary rock that may contain petroleum. The extent of this area is indicated by the black line on the map.
The map gives an overview of the current status of the Norwegian continental shelf. The green areas have been opened for petroleum activity by the Storting (Norwegian parliament). The yellow areas have also been opened, but are subject to special arrangements as described in the white paper An industry for the future – Norway's petroleum activities. The areas outlined in red are covered by the system of awards in predefined areas (APA).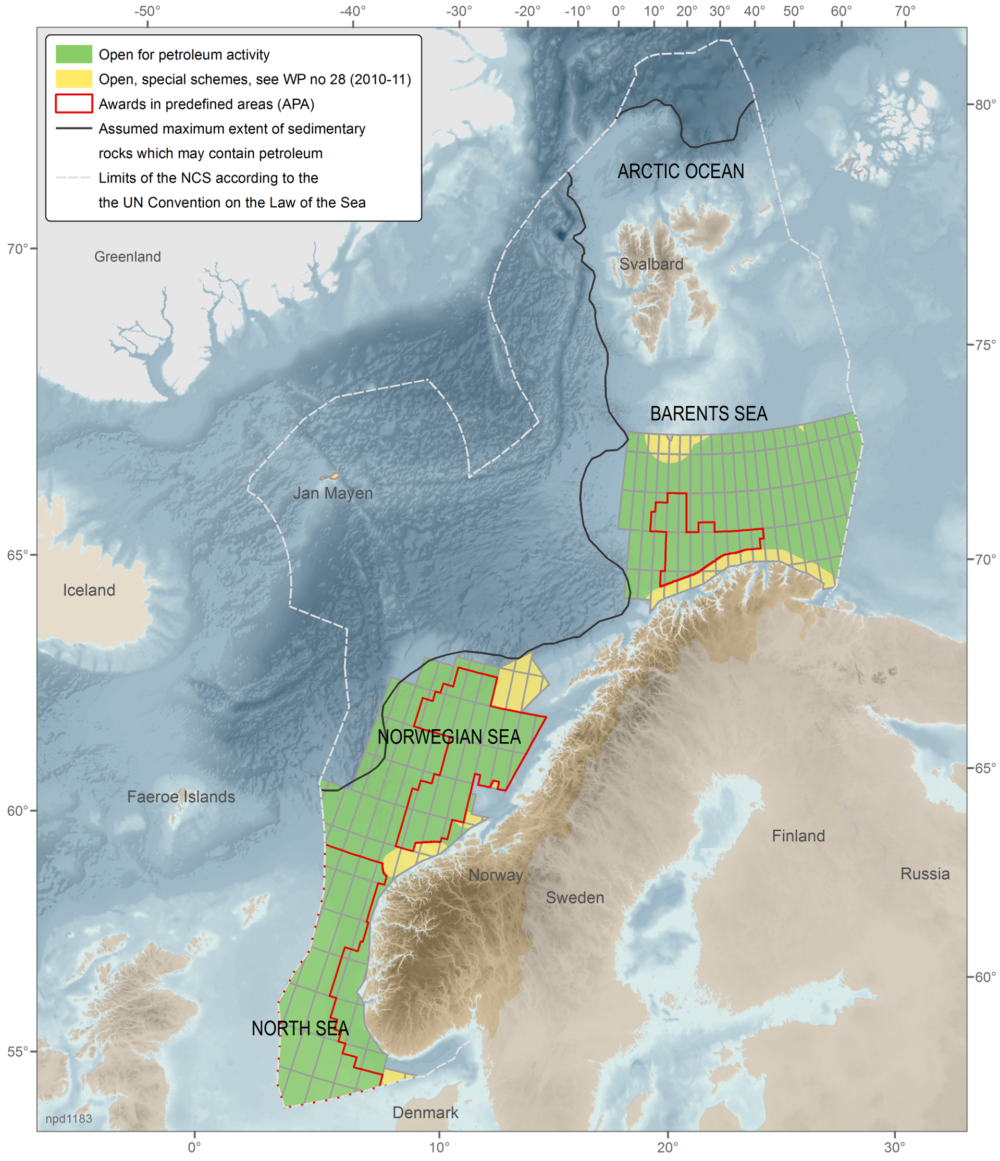 24th Licensing Round
Nomination
In August/September 2016, the Ministry of Petroleum and Energy invited oil companies to nominate blocks in opened areas on the Norwegian shelf for the 24th licensing round. The companies' nominations form an important part of the decision basis for assessments when announcing acreage in the 24th round, which is expected before summer 2017. Maps showing blocks open for nomination are found at the Norwegian Petroleum Directorate's website.
Awards in predefined areas (APA) 2016
Announced Blocks
In the APA 2016 round, the predefined area has been expanded by 24 blocks in the Norwegian Sea and 32 blocks in the Barents Sea. Several blocks are located around the Hansteen field in the Norwegian Sea. In the Barents Sea the blocks are mainly located in the area around the discoveries Castberg, Alta and Gotha. Additional resources in the area surrounding a planned or producing field may increase profitability, optimize utilization of resources and value creation from the petroleum resources.
Offers for ownership
56 production licences were offered in APA 2016. They are located in the North Sea (36), the Norwegian Sea (17) and the Barents Sea (3). A total of 33 companies applied for production licences in the licensing round and 29 different oil companies will be offered awards in one or more licences, of which 17 will be offered one or more operatorships.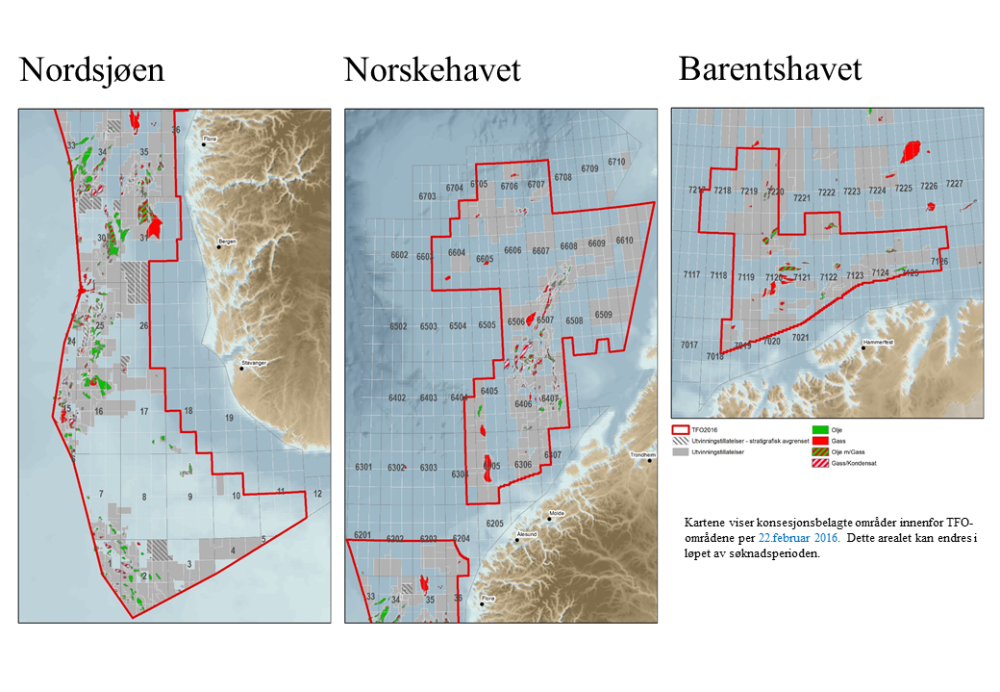 23rd Licensing Round
Announced Blocks
26 companies applied for exploration acreage in the 23rd licensing round. The licensing round comprises 57 announced blocks or parts of blocks, 3 of which are in the Norwegian Sea and 54 in the Barents Sea. 34 of the announced blocks are situated in the newly opened area in the south-eastern Barents Sea, and many of the applications target this acreage.
Offers for ownership
The Norwegian Ministry of Petroleum and Energy issued an offer of ten new licences in the 23rd licensing round in May 2016. This includes 40 blocks in total, all in the Barents Sea. Three of the licences are located in the newly opened area in the Barents Sea southeast, outside the county of Finnmark.
Thirteen companies are offered participating interest, of which five companies operatorship.