The total area of sea under Norwegian jurisdiction is 2 039 951 km², which is almost 6.5 times the size of mainland Norway, Svalbard and Jan Mayen. About half the area of seabed consists of sedimentary rock that may contain petroleum. The extent of this area is indicated by the black line on the map.
The map gives an overview of the current status of the Norwegian continental shelf. The green areas have been opened for petroleum activity by the Storting (Norwegian parliament). The yellow areas have also been opened, but are subject to special arrangements as described in the white paper An industry for the future – Norway's petroleum activities. The areas outlined in red are covered by the system of awards in predefined areas (APA).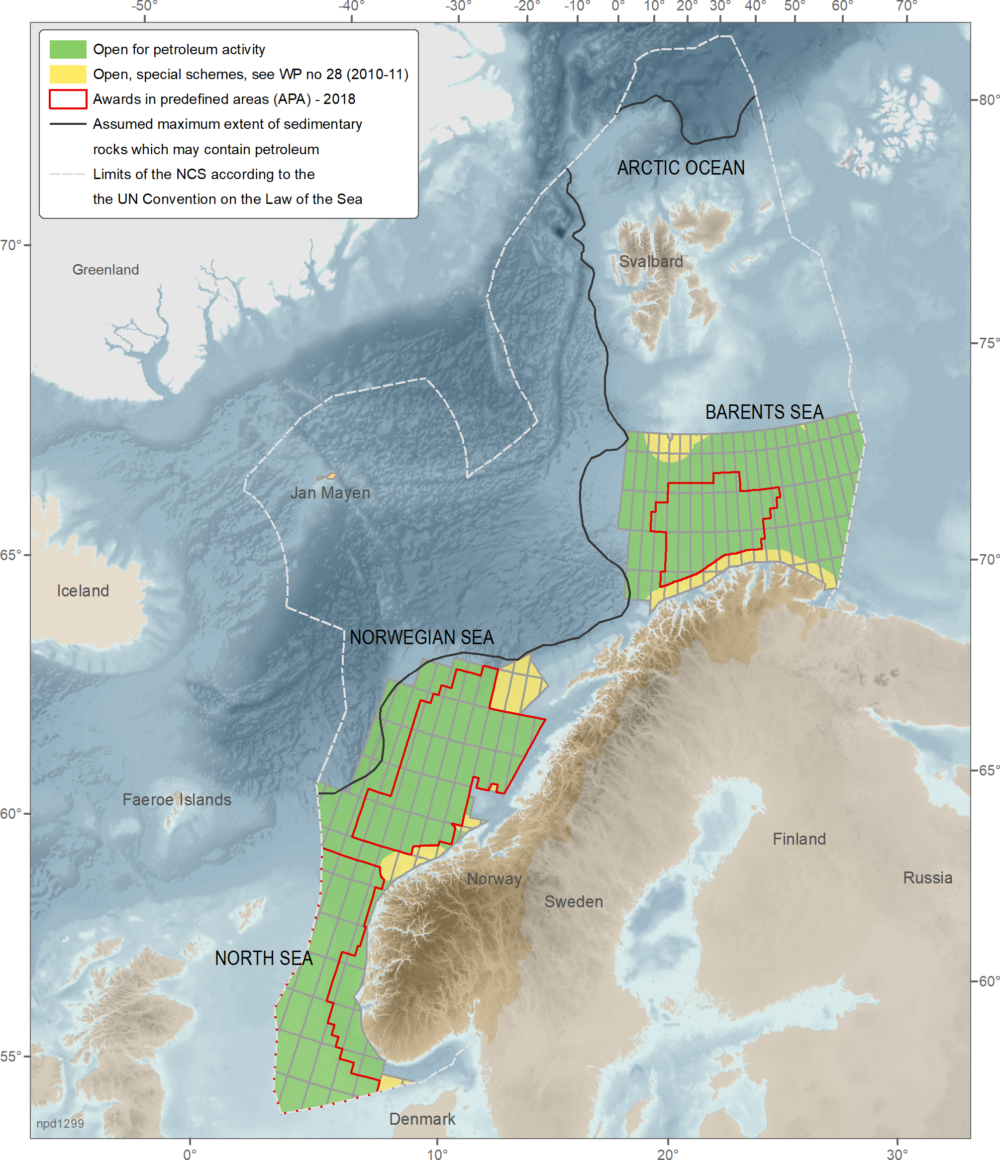 Awards in predefined areas (APA) 2018
Announcement
The Ministry of Petroleum and Energy has 9 May 2018 announced the APA 2018. In this licensing round, the predefined areas (APA acreage) have been expanded with 47 blocks in the Norwegian Sea and 56 blocks in the Barents Sea. The application deadline for APA 2018 is on 4 September 2018, and it is expected that new production licenses will be awarded during the first quarter of 2018.
24th Licensing Round
Nomination and public consultation
In August/September 2016, the Ministry of Petroleum and Energy invited oil companies to nominate blocks in opened areas on the Norwegian shelf for the 24th licensing round. The companies' nominations form an important part of the decision basis for assessments when announcing acreage. In March 2017, the Ministry of Petroleum and Energy sent blocks nominated for announcement on a public hearing process.
Announcement and applications
On 21 June 2017, the Ministry of Petroleum and Energy announced the 24th licensing round. The licensing round includes all 102 blocks or parts of blocks that had been on the public hearing process. Nine blocks are located in the Norwegian Sea and 93 blocks in the Barents Sea. When the application deadline expired on 30 November 2017, a total of eleven companies had submitted applications for new exploration acreage in both sea areas. Most applications received are for the Barents Sea, and the companies are particularly interested in the northwestern part of the region. The list of applicants is dominated by large and medium-sized companies with good technical and financial capacity to conduct exploration in such immature areas. The aim is to award new production licenses before the summer of 2018.