Oil and gas are produced through industrial projects. Discoveries and fields may be developed in stages, with a number of different projects at different stages of maturity with regard to development and production.
The classification system used by the Norwegian Petroleum Directorate is an important tool for maintaining an overview of the volume of petroleum on the Norwegian shelf. Only recoverable petroleum resources are classified, and the system has been developed in order to follow changes in the resource base by following discoveries, fields and projects through various phases. The system classifies the petroleum resources in the different projects according to their maturity.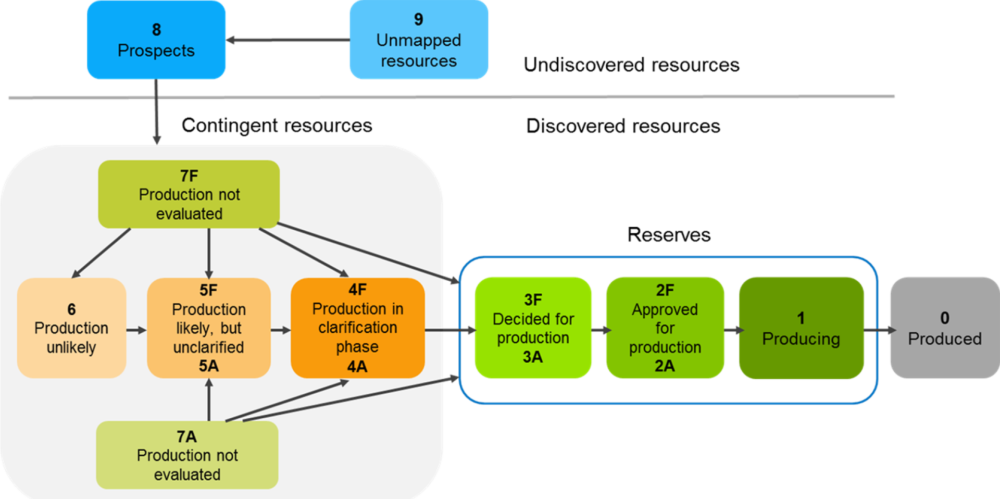 The classification system has three classes: reserves, contingent resources and undiscovered resources. Sub-classes (resource classes) are defined by maturity. Resources is a collective term for all recoverable volumes of petroleum, and reserves are a particular type of resources. Historic production means all the oil and gas that has been produced, sold and delivered.
Reserves are the volumes of oil and gas that the licensees have decided to recover, and are classified as resource class (RC) 1 to 3. Contingent resources have been proven, but no decision has been made regarding their production. This class also includes resources in projects to improve recovery, and resources that are unlikely to be produced. The letters F and A are used to distinguish between development of new discoveries and deposits (F) and measures leading to improved recovery of petroleum from a deposit (A). F stands for "first" and A for "additional". Contingent resources are classified in resource class 4 to 7.
Undiscovered resources are estimated quantities of oil and gas that are probably present but that have not yet been proven by drilling. These are classified in resource class 8 and 9.
Link to the NPD's resource classification system.