Resources is a general term for all oil and gas that can be recovered. The resources are classified according to their maturity in relation to their progress in the planning process leading up to the decision to develop and produce. The main classifications are reserves, contingent resources and unproven resources.
The Norwegian Petroleum Directorate's basic estimate for total proven and unproven petroleum resources on the Norwegian continental shelf is about 15.6 billion standard cubic metres of oil equivalents (Sm3 o.e.). Of this, 7.1 billion Sm3 o.e., or 45 per cent, have been sold and delivered. It is an increase in unproven resources of 1.3 billion Sm3 o.e. compared with the previous year. The reason for this is that, in 2016/2017, the Norwegian Petroleum Directorate mapped acreage that has yet to be opened for petroleum activities in the northeastern part of the Barents Sea.
The remaining resources to be produced are expected to total 8.5 billion Sm3 o.e. Of this, 4.5 billion Sm3 o.e. are proven resources. The estimate for unproven resources is 4.0 billion Sm3 o.e. About 47 per cent of the remaining resources have yet to be proven.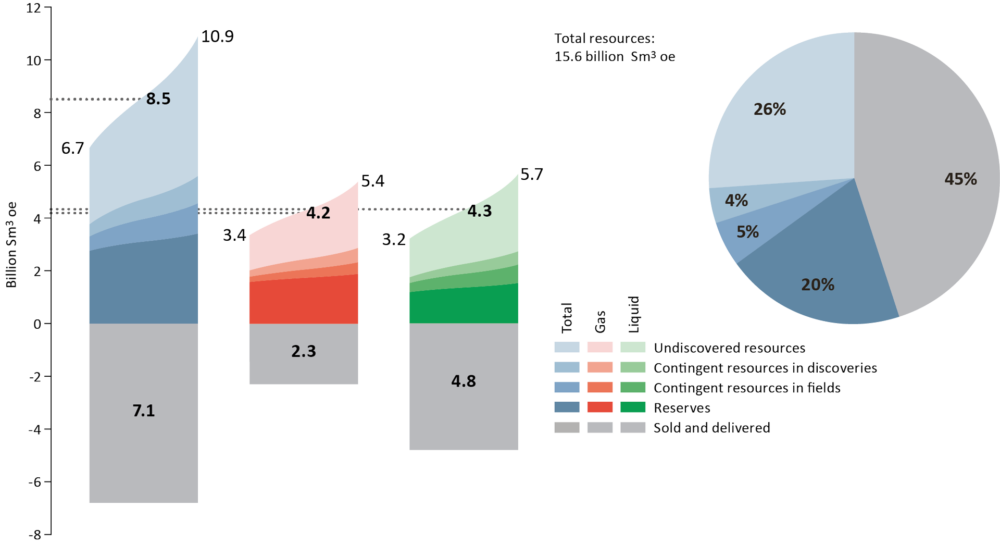 Original recoverable petroleum resources on the Norwegian continental shelf as of 31.12.2017 – Oil, condensate and total oil equivalents are given in million standard cubic metres. NGL is given in million tonnes, and gas is given in billion standard cubic metres. The conversion factor for NGL in tonnes to standard cubic metres is 1.9.
What is produced on the Norwegian shelf?
The production (well stream) from different reservoirs contains oil, gas and water in various combinations. To get marketable products, the production from the reservoirs must be separated and treated. The production from different reservoirs varies from oil with low gas content to almost dry gas (methane with only small amounts of other gases).
Crude oil is a fluid that is a combination of different types of hydrocarbons. The composition varies from field to field, and the quality of the oil, including how light or heavy (viscous) the oil is, depends on the composition of the hydrocarbons as well as the contents of other substances, such as wax and sulphur.
Rich gas, or crude natural gas, is a mixture of various gases. When necessary, the gas is separated from the oil before the rich gas is treated in a processing facility that separates the dry and wet gas components. Dry gas is often referred to as natural gas, and consists mainly of methane, but also a little ethane.
Wet gas, or NGL (Natural Gas Liquids), consists of a mixture of heavier gases (ethane, propane, butanes and naphtha). In addition there are heavier condensates which some classify as a separate product. Naphtha and condensate are liquid at room temperature, while the lighter wet gas components can be made liquid either by cooling or adding pressure.
Not all gas that is produced is sold. Some of the gas is used to generate power on the fields, and small amounts are flared for safety purposes. On some fields, gas is reinjected into the reservoirs. Reinjection is often used to maintain reservoir pressure and displace the oil. This results in efficient recovery of the oil, and the gas is stored for possible recovery in the future.
Reserves are recoverable petroleum volumes that have not been produced, but where a production decision has been made. This applies for both resources where the authorities have approved a Plan for Development and Operation (PDO) and the resources that the licensees, companies in the production licence, have decided to produce, but where they do not yet have the required permits from the authorities.
Reserves totalled 3 089 million Sm3 o.e at the end of 2017. 56 per cent of this is gas. Gross reserves, or the estimate before production is deducted, increased by 318 million Sm3 o.e. The reason for this solid increase is reserve growth on a number of producing fields and the submission of several Plans for Development and Operation (PDOs). Production in 2017 was 238 million Sm3 o.e. This entails a net resource growth of 80 million Sm3 o.e., or about 3 per cent, in 2017.
Contingent resources are proven oil and gas for which a production decision has not yet been made. Petroleum volumes in potential improved recovery projects are included in this category. At the end of 2017, the contingent resources totalled 1 421 million Sm3 o.e. Resources that are not considered commercial are not included in the accounts.
Decisions will be made every year to develop some of the contingent resources, and then they will be transferred to the reserves category. Growth in the contingent resources category comes from both exploration activity, changed projections and new opportunities in fields and discoveries.
In 2017, the exploration activity resulted in a resource growth estimated at 33 million Sm3 o.e. Twenty-three exploration wells were completed, and 11 discoveries were made; six in the Barents Sea, three in the Norwegian Sea and two in the North Sea. Many of the discoveries have not been fully evaluated, and the estimates are therefore very uncertain.
Contingent resources in fields constitute 822 million Sm3 o.e. or 18 per cent of the remaining proven resources. In 2017, contingent resources in fields were reduced by 23 million Sm3 o.e. compared with the accounts in 2016. The reduction can e.g. be explained by the maturation of the project to further develop Snorre and the project to develop Ærfugl in Skarv into reserves. Resources in discoveries were reduced by 98 million Sm3 o.e., to 599 million Sm3 o.e., as a result of submission of PDOs for discoveries 25/1-11 R Skogul, 6407/8-6 Bauge, 6407/12-3 S Fenja and 7220/8-1 Johan Castberg. A PDO exemption has been granted for the 6706/12-2 Snefrid Nord discovery, and the discovery has been incorporated into the Aasta Hansteen field. The resources in these discoveries are now classified as reserves. In addition, five of the discoveries in the accounts from last year were not found suitable for development. They are therefore not included in the accounts.
Unproven resources comprises oil and gas that probably exists and can be produced, but that have not yet been proven through drilling.
The resource estimate for unproven resources was updated in 2017. This update takes place every two years. Unproven resources were estimated at 4 000 million Sm3 o.e. This is an increase of 1 130 million Sm3 o.e. compared with the resource accounts for 2016. This large increase is caused by the re-evaluation of the northern Barents Sea, as well as the fact that, following the agreement on the demarcation line between Norway and Russia, the area in the northeastern Barents Sea is now included in the estimate. Unproven resources constitute about 47 per cent of the total resources that remain on the Norwegian shelf.