Resources is a general term for all oil and gas that can be recovered. Resources are classified according to maturity, which measures how far along they are in the planning process leading to production. The primary classifications are reserves, contingent resources and undiscovered resources. Read more about the resource classification system.
The Norwegian Petroleum Directorate's (NPD's) resource accounts as per 31 Dec. 2021 show that the overall resource volume (including what has been sold and delivered) on the Norwegian shelf is about 15.9 billion Sm³ of oil equivalents (o.e.). This is an increase of 97 million Sm³ of o.e. compared with last year.
Total recoverable petroleum resources on the Norwegian continental shelf as of 31.12.2021 – Oil and condensate are quoted in million standard cubic metres (Sm³). NGL is quoted in million tonnes, and gas is quoted in billion standard cubic metres. The conversion factor for NGL in tonnes to Sm³ is 1.9. Total oil equivalents are stated in million Sm³ o.e., 1000 Sm³ gas = 1 Sm³ o.e.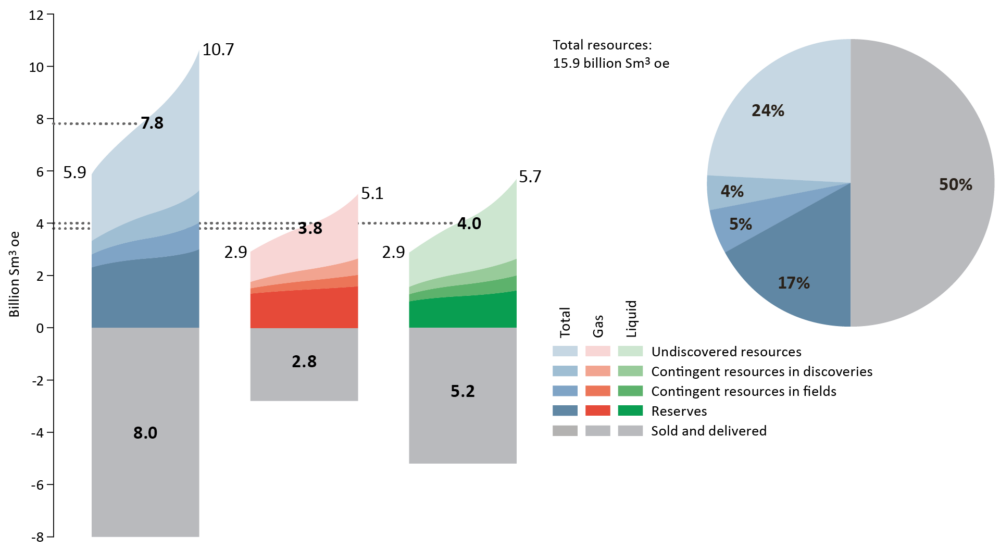 In the resource classification system, oil and gas resources transition into reserves once the operator has submitted a plan for development and operation (PDO) or decided to implement a measure optimising recovery that does not require a PDO. Discoveries are classified as fields once an approved plan for development is available. There are currently more than 100 fields in production, under development, or with plans for redevelopment. The fields with the largest remaining oil reserves as per 31 Dec. 2021 are Johan Sverdrup, Johan Castberg and Snorre. The remaining gas reserves are largest in Troll, Snøhvit and Ormen Lange.
The overall remaining reserves amount to 1044 million Sm³ of oil (MSm3) and 1450 billion Sm³ of gas (GSm3). This year's resource accounts show good growth in gross gas reserves, 125 GSm3. This is the highest reserve growth in gas since 2012. The growth in oil reserves is lower, 21 MSm3. The increase is mainly caused by the companies sanctioning and submitting more development plans in 2021, and that the reserves increased on several fields, e.g. due to a longer expected operating period.
Twenty new discoveries were made in 2021, 18 of which in exploration wells and two in development wells with exploration targets. Thirteen of the discoveries were made in the North Sea, four in the Norwegian Sea and three in the Barents Sea. At the end of 2021, the discovery portfolio consisted of 88 discoveries. Of these 88 discoveries in the discovery portfolio, the largest are 7324/8-1 (Wisting), 30/11-8 S (Krafla), 6406/9-1 Linnorm and 35/12-2 (Grosbeak).
Contingent resources are proven oil and gas for which a production decision has not yet been made. Petroleum volumes in potential improved recovery projects are included in this category. The growth in the contingent resources category comes from both new discoveries and from changed resource estimates and new opportunities in fields and discoveries. Decisions are made every year to develop some of the contingent resources. They are then transitioned over to the reserves category.
At year-end, the contingent oil resources in fields were 377 MSm³, which is an increase of 31 MSm³ from last year. The increase is in part caused by a project for late-phase production on Snorre. Contingent gas resources amounted to 316 GSm³, and this is a reduction of 26 GSm³ compared with last year. This reduction is mainly caused by maturing resources into reserves and the submission of development plans for e.g., Ormen Lange phase 3 and low-pressure production on Oseberg.
Contingent resources in discoveries amount to 359 MSm³ of liquids (oil + condensate + NGL) and 307 GSm³ of gas. The total volume in undeveloped discoveries has been reduced by 39 MSm3 of o.e. compared with last year's accounts. This reduction was mainly caused by resources maturing into reserves for several discoveries.
More than half of all undiscovered resources are located in the Barents Sea
Undiscovered resources are volumes of petroleum that we assume could be recovered from deposits not yet proven through drilling. The estimates of undiscovered resources in opened areas are updated every two years with an assessment of recent years' exploration results, new mapping and new documentation. The estimates were last updated in autumn 2021. In interim years, the estimates are adjusted in relation to the last year's drilling activity.
Undiscovered resources are estimated at 3,790 million Sm3 of o.e., which is a reduction of 45 million Sm3 of o.e. compared with the previous year. Unproven resources make up about 48 per cent of the overall remaining resources on the Norwegian shelf. For more detailed estimates and distribution of undiscovered resources in each sea area, please see the article Resources per sea area.